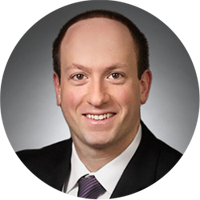 Ethan has been with SSRGA since the firm's inception. A graduate of the Fordham University School of Law (JD) and New York University (MUP), Ethan previously practiced with large national and mid-size regional firms. His experience also includes work in the chambers of United States Magistrate Judge Debra C. Freeman (SDNY), the United States Attorney's Office for the Southern District of New York (Criminal Division), and the Office of the New York State Attorney General (Litigation Bureau).
Ethan's practice encompasses the full spectrum of commercial and real estate litigations. He represents middle-market and closely-held businesses, real estate owners/developers, high-net-worth individuals, and for-profit, non-for-profit, and cooperative and condominium boards in federal and states courts and alternative dispute resolution forums throughout the country. Ethan litigates matters involving contracts, business torts and divorces, real estate and construction, corporate governance, and employment law and discrimination. Clients rely upon Ethan's analysis, skill, and tenacity in bet-the-company conflicts, while also seeking out his litigator's perspective in contract negotiation and drafting. In addition to his robust trial-level work, Ethan also regularly conducts internal investigations and prosecutes appeals in state and federal courts.
What makes SSRGA a successful law firm?
The people. We are smart and sophisticated, yet down-to-earth and practical. We work hard without losing sight of the big picture. We are every bit as skilled as attorneys at large international firms, but we take the time and make the effort to really know our clients, their businesses, and their long- and short-term goals. And we care about each other. There is a genuine camaraderie and respect among our own ranks. We work collaboratively, and people on the outside—clients and adversaries alike—see and appreciate that. The warmth and collegiality among our attorneys and staff results in more vibrant service to, and superior work product for, our clients.
Tell us about your typical workday.
The only thing typical about my workdays is just how atypical they are. There is incredible unpredictability. On any given day, I rarely do only what I had set out to do in the morning. I may plan to research and draft an appellate brief, only to be contacted by a corporate client seeking counsel about a rogue shareholder usurping company property. Then an adversary will give me notice that they will be making an emergency application in court in the afternoon, and I'll prepare and appear in opposition. The variety keeps me on my toes, and it forces me to think fluidly and holistically. It is delightfully challenging—and I relish that.
Describe one of your significant professional successes.
It's always a major win when a client's rights are vindicated. I regard every favorable decision or outcome for one of our clients as a significant professional success—because, for that client, it is. That said, one early victory stands out. Years ago, as a mid-level associate, I was part of a litigation team in a case out in the United States District Court for the District of Utah. In addition to learning the relevant substantive law, I also had to familiarize myself with and master the local rules of procedure—and local customs. (Let's face it: New York courts—like New Yorkers themselves—are just different!) The case involved the fundamental distinction between the corporate/individual capacities in determining whether the Utah courts had personal jurisdiction over our client. We lost in the District Court and then appealed to the U.S. Court of Appeals for the Tenth Circuit. I developed our appellate strategy, briefed the appeal, and argued before the three-judge panel, which reversed the District Court and found in our client's favor. It was incredibly gratifying.
What do you do for fun?
Between work and a busy home life—four children and a wife who works outside the home full-time—who has time for fun? In all seriousness, though, I believe that having fun is an essential ingredient for success in any field, and law practice is no different. Lawyers are renowned for our work ethos, but we also need to recharge and avoid burn-out. I'm an avid ice hockey player (and fan), a rollercoaster fanatic, and I play piano and violin. But I also have a reputation for having fun at work. I throw myself into my work, I work with enthusiasm, and I make sure to take the time to celebrate our successes. If you can't have fun at work, you're probably in the wrong field.
What unique advice do you offer to your clients?
I am not sure it is unique, but it is often overlooked: Know your goals. Too often, especially in litigation, clients (and attorneys) tend to dive right into the process without contemplating their real objectives and what they want out of the process. The result can be a costly Pyrrhic victory. I always ask clients to tell me what they want. Once I know what they truly want, we can chart a course forward and find a way to get there. Sometimes client goals evolve, so it is an inquiry that must be revisited constantly.
See Ethan's bio.